Woven Wood Shades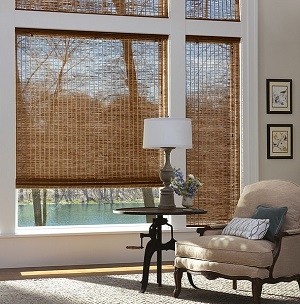 While woven shades in general are quite popular, woven wood shades in Ventura are among the most popular there to many Californians. When it comes to window treatments, you can't go wrong with this style of window covering. Even more important, when it comes to window covering companies, you can't go wrong with SeaBreeze Window Coverings.
We are dedicated to providing you with the best quality for every aspect of your project. From the products and installation to the customer care and pricing, we offer only the very best. We realize that this can be an overwhelming task, trying to decide which window treatment would be best for you.
Our job as your local window blinds and shades experts is to take the mystery and confusion out of the equation and only provide you with results that you will love, for years to come. Our main goal is to educate you on your options and guide you towards making the best choice possible. Get in touch with us today so we can show you how we have earned the reputation that we have for providing window treatments like woven wood shades in Ventura.
Are Woven Wood Shades Right For You?
If you are not already familiar with the advantages to expect, from choosing woven wood shades, here are some things that you should know:
This style of window covering can be made from a variety of stunning and durable materials. Some examples include grasses and reeds in addition to standard wood.
This unique style of window covering has the distinct ability to dress up a casual room or tone down an otherwise sophisticated one.
They can make the perfect backdrop or, with the right choice, become the main focal point of the room.
One trait that makes them so highly sought-after is their unique ability to still let filtered sunlight through. Get the privacy you desire while still letting natural light in the room.
When paired with a lining, you can intensify the light control and privacy woven wood shades offer.
You also have plenty of options for customization, such as valances.
These are also a great choice to use for any size window. It is commonly used for larger windows or even sliding glass doors in fact.
The Company to Call for Woven Wood Shades in Ventura
We don't just offer window treatments, we provide window solutions. It starts with knowing more about the options that you have, such as woven wood shades, and ends with your total satisfaction. Don't settle for anything less than the best when SeaBreeze Window Coverings can make sure that you get the finest in materials, workmanship, customer care and even pricing.
Photos of Our Woven Wood Shades in Ventura & the Surrounding Areas
If you would like an estimate for woven wood shades in Ventura or the surrounding areas, please call 805-201-8374 or complete our online request form.
Latest Articles
Embrace Convenience and Control: The Advantages of Motorization for Window Blinds
Window blinds are an essential part of any home, offering privacy, light control, and aesthetic appeal. In recent years, motorization has revolutionized the way we interact with window blinds, providing homeowners with unprecedented convenience and control. In this article, we will explore […]
Read More
---
3 Reasons To Invest In Woven Wood Shades
When you're in the market for new shades for your home, it's pretty easy to feel a bit overwhelmed at the sheer amount of different options out there for you to choose from. While any and all of those options would likely be a wonderful addition to your home, there is one option out there […]
Read More
---