Roller Shades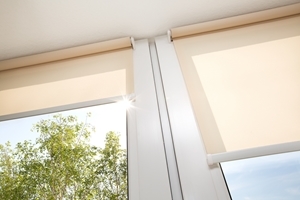 Roller shades in Ventura are a classic option for window treatments and work perfectly for either residential or commercial settings. They come available in a wide range of materials, colors and looks so they can fit any design aesthetics you desire. In order to get the best possible results, you need to partner with professionals who genuinely care about meeting the needs of their clients.
For locals in this area, that name just happens to be SeaBreeze Window Coverings. With over 20 plus years of industry related expertise, we know what it takes to get the job done and provide the best in quality results. We look forward to working with you and helping you better comprehend the options that you have available, such as roller shades.
The right type of these window shades can offer the best in exceptional pricing, as well. Attractive, affordable and versatile, they really do make the ideal selection for your window treatments. Give our window blinds company in Ventura, CA a call today to finally get a consultation set up and be on the way to getting the perfect window coverings for your individual situation.
Are Roller Shades Right For You?
Aside from looks, price and the ideal versatility, many people want to know what exactly makes roller shades such a great choice. Some of the other benefits of this type of window treatment include:
The ability to easily open and close (roll up or down)
The absence of a cord makes them a more child-safe option
Roller shades can also work well with other window coverings if you are planning on layering
The look is perfect for classic and simple yet elegant
When you work with our window blinds company in Ventura, CA, you can get the full list of benefits that roller shades offer. Not only that, you will get access to the full catalog of exciting choices that you have available to you. Whether you want a subtle backdrop or bold and striking showstoppers, we can provide you with whatever window treatments you desire.
The Only Name You Need to Know for Roller Shades in Ventura
Let the pros at SeaBreeze Window Coverings help you get a clearer understanding of the choices that you have available and which one would work best for you. Our roller shades in Ventura range quite a bit and will be the perfect fit for any residential or commercial setting.
If you are ready to find out more about what is available, all you have to do is give us a call. We take great pride in our ability to educate each client about this field, as opposed to just selling window treatments.
If you would like an estimate for custom roller shades in Ventura or the surrounding areas, please call 805-201-8374 or complete our online request form.
Latest Articles
Embrace Convenience and Control: The Advantages of Motorization for Window Blinds
Window blinds are an essential part of any home, offering privacy, light control, and aesthetic appeal. In recent years, motorization has revolutionized the way we interact with window blinds, providing homeowners with unprecedented convenience and control. In this article, we will explore […]
Read More
---
3 Reasons To Invest In Woven Wood Shades
When you're in the market for new shades for your home, it's pretty easy to feel a bit overwhelmed at the sheer amount of different options out there for you to choose from. While any and all of those options would likely be a wonderful addition to your home, there is one option out there […]
Read More
---