SeaBreeze Window Coverings - the Camarillo Shutter Company of Choice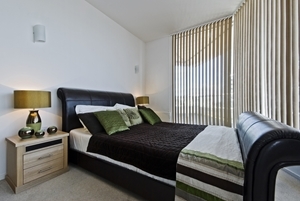 Having a professional Camarillo shutter company to work with, for all of your window treatment service needs, is an important thing to have lined up. Fail to do so and you could end up putting off getting this service taken care of in a timely manner. The last thing that you want is to end up with bare windows that allow too much light in and expose your household to the world.
Of course, that certainly doesn't mean that you should settle for inferior service. Make it a point to work with a shutter company that offers good value – excellence in product and service for a reasonable price. Which is why so many savvy residential and commercial clients turn to SeaBreeze Window Coverings to get the job done.
There is no reason to settle for inferior service, shoddy looking window dressings or ignoring the need for window treatments altogether. This addition to your home or business does so much for it, aside from just improving the looks. Let us work with you to help you understand the options that you have and make the best choices possible.
Window Coverings Company in Camarillo
To have success for your window coverings project, you have to find the right experts to work with. This also means a team of pros that offer a wide variety of essential services such as:
Shutters – From traditional to plantation shutters in Camarillo, CA, we can help create the look you hooped for. Your shutters impact both the interior design aesthetics and the exterior curb appeal, so let us take care of that for you.
Blinds – We offer a variety of blinds, such as traditional, wood and mini – just to name a few. This classic type of window treatment has come quite a long way in recent years so let us show you the options that you have.
Draperies – From the latest in current color trends to the pattern styles you need to complete the look, we offer it all. This is even a great choice to make if you would like to layer your window treatments.
Your Local Camarillo Window Treatment Experts
SeaBreeze Window Coverings can take care of any and all of your window treatment service needs. We look forward to working with you and providing you with the long term, quality results that you are going to love. Getting the right window coverings is like putting the icing on the cake, it just helps finish and beautify the project.
See What Our Customers in Camarillo Are Saying About Us
SeaBreeze Window Coverings is Rated: 5 / 5
based on this 1 happy customer review.
---
"I found this company through Yelp and now I'm here as a customer giving them 5 stars myself! They showed up on time for the estimate, they were professional offering good suggestions, the blinds arrived sooner than expected and they did a great job with the install. All around good experience."
---
If you are looking for a professional Camarillo shutter company then please call 805-201-8374 or complete our online request form.