Classic Plantation Shutters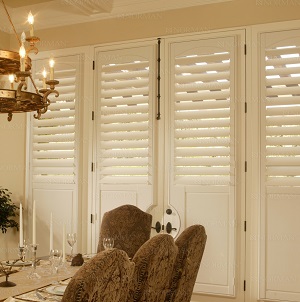 Weighing your options for window coverings and not sure what makes plantation shutters different from traditional shutters? It is a common question that consumers have, and it is a good idea to get informed before making a final decision about your window treatments. As the name would imply, these were shutters that were originally used in the South for decoration and protection on plantations. Plantation shutters in Ventura are particularly popular due to their stylish, classic look.
The design did, and still does, include wider louvers and this more dramatic look is what tends to make them so popular with homeowners. While plantation shutters were originally installed on the exterior of the house to help protect the windows, most homeowners opt for interior placement these days. These wider louvers also offer a better view when affixed in the open position.
Equally important is that you know the name that you can trust in for this type of service work - SeaBreeze Window Coverings. As the local leading shutter company and provider of window treatments in the Ventura area, we pride ourselves on being the best for craftsmanship in addition to customer care. Before you move forward with your plans for what will be covering your window, make it a point to give us a call.
Expert Level Plantation Shutter Services
Want to know a few of the advantages plantation shutters offer and why so many homeowners opt for this type of window treatment?
This is an ideal choice for something that will sit well inside of casement windows. Not all window covering options are as perfectly suited for this window style.
You have the perfect amount of privacy. You can either open them completely, or close them off for total privacy – as well as anything in between.
These are also shutters that can be customized to fit just about any size or shape of window.
You do have the option of having plantation shutters installed on either the inside or outside of your windows.
Quality shutters also offer an additional layer of insulation which helps lower utility bills and increase the Eco-friendliness of your dwelling.
The bottom line is that savvy home or business owners know the importance of teaming up with an industry expert to get the job done. If you are looking for plantation shutters in Ventura, CA or nearby, call the pros at SeaBreeze Window Coverings today.
The Local Source for Plantation Shutter in Ventura
SeaBreeze Window Coverings has over two decades of industry expertise backing us up. Our main focus is, and always has been, the total satisfaction of our clients.
Let us work with you to ensure that you understand the benefits of plantation shutters. From there we can provide you with the expert level installation that you deserve.
If you would like an estimate for custom plantation shutters in Ventura or the surrounding areas, please call 805-201-8374 or complete our online request form.
Latest Articles
Embrace Convenience and Control: The Advantages of Motorization for Window Blinds
Window blinds are an essential part of any home, offering privacy, light control, and aesthetic appeal. In recent years, motorization has revolutionized the way we interact with window blinds, providing homeowners with unprecedented convenience and control. In this article, we will explore […]
Read More
---
3 Reasons To Invest In Woven Wood Shades
When you're in the market for new shades for your home, it's pretty easy to feel a bit overwhelmed at the sheer amount of different options out there for you to choose from. While any and all of those options would likely be a wonderful addition to your home, there is one option out there […]
Read More
---