Meet Your Local Window Blind & Shutter Company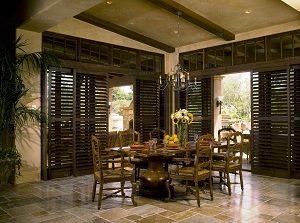 With over 20 years of hands-on expertise, the SeaBreeze Window Coverings company name has become synonymous with all around superior quality window treatments. We provide beauty and customization for all the window covering projects we handle, and deliver nothing short of 100% satisfaction. Our shutter company has a wide customer base that includes residential and commercial clients that range from Santa Barbara, Ventura and Los Angeles.
We take great pride in our ability to offer each client the finest in products, craftsmanship and unsurpassed customer service. We treat you the way that we would want to be treated, if not better, because our customers are our greatest asset. When you are in need of blinds, shades, shutters or other related service, you can count on our team of experts.
Services Our Window Blind & Shutter Company Offers:
Latest Articles
What Type of Blinds Are Best for Your Ventura Home?
Thinking about updating your Ventura home's window coverings? Not sure what kinds of coverings you should get? If so, then may we suggest window blinds? You may be asking yourself, "Blinds? Why? What's so special about THOSE?" The answer is simple: Blinds come in a variety of different materials, and this variety means you'll have […]
Read More
---
What's So Great About Cellular Shades?
Your Santa Barbara shutter company can attest to the unique benefits of cellular, or honeycomb, shades. Cellular shades are window coverings comprised of numerous layers of pleated fabrics, forming internal compartments between the layers that appear like honeycombs. This honeycomb pattern gives cellular shades their impressive insulating properties. The energy efficiency of cellular shades is […]
Read More
If you would like to know more about our Ventura shutter company, please call 805-201-8374 or complete our online request form.