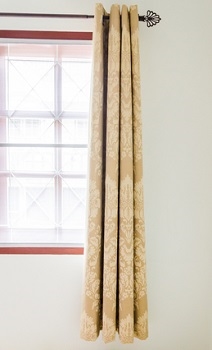 Sliding Panel Curtains
For some situations, the solution to your window covering needs is best taken care of with sliding panels. In fact, some homeowners even opt to implement this type of window dressing in place of closet doors. It is essential to the success of your window treatment project that you find the right industry experts to partner with for sliding panel curtains in Ventura or nearby so that you get results that you will be happy with, for a long time to come.
Savvy local home and business owners know that the name to trust in is SeaBreeze Window Coverings. We take this line of work seriously and that is clear from the customer feedback and satisfaction rating we have earned. We look forward to working with you and providing you with the information you need to make good choices.
After that, we will also provide you with the expert level drapery installation work you need to complete the job. It is essential to know your options and understand the lingo. This is how you end up with window treatments that you can feel good about, long term.
Are Sliding Panel Curtains Right For You?
Unfamiliar with what sliding panels are exactly or, more importantly, whether or not they would be right for you? Here is some of what you need to understand about this unique alternative window covering.
This is like a combination of both a curtain or woven shade and a sliding glass door. Instead of pulling fabric to the side, as with a traditional curtain, you simply slide the panel out of the way or back in place.
This is considered a modern, and favorable, alternative to vertical blinds. For the longest time, vertical blinds were the only option for covering large windows or sliding glass doors.
The look of sliding panel curtains in Ventura is sleek, clean and uniform. They make the perfect background look to any room, without becoming the focal point.
You even have the option to use a sliding panel as a ceiling mounted, room divider.
Of course there are plenty of selections for you to choose from for these draperies, such as the color and material used. Let us show you the array of options that you have and help you find a sleek and modern alternative to taking care of your window treatment options.
The Only Company You Need to Know for Sliding Panel Curtains in Ventura & the Surrounding Areas
SeaBreeze Window Coverings is a local shutter company in Ventura, CA known for offering the latest in cutting edge window treatment solutions, like sliding panels. Yet we are still completely capable of providing you with all the classics in window coverings, too. Call now to set up your consultation.
If you would like an estimate for sliding panel curtains in Ventura or the surrounding areas, please call 805-201-8374 or complete our online request form.
Latest Articles
Embrace Convenience and Control: The Advantages of Motorization for Window Blinds
Window blinds are an essential part of any home, offering privacy, light control, and aesthetic appeal. In recent years, motorization has revolutionized the way we interact with window blinds, providing homeowners with unprecedented convenience and control. In this article, we will explore […]
Read More
---
3 Reasons To Invest In Woven Wood Shades
When you're in the market for new shades for your home, it's pretty easy to feel a bit overwhelmed at the sheer amount of different options out there for you to choose from. While any and all of those options would likely be a wonderful addition to your home, there is one option out there […]
Read More
---