Are You Looking For A Bell Canyon Shutter Company?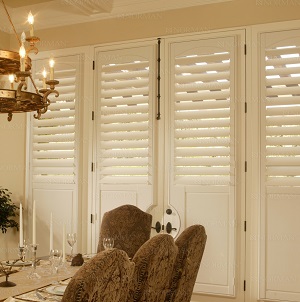 SeaBreeze Window Coverings is the place to come to for all of your Bell Canyon shutter company service needs. There isn't anything better than the quality you get from our custom window treatments.
You can expect that same level of revered excellence for the installation work we provide, as well. There's simply no reason to settle for anything but the best when it comes to putting these final details on your dream home.
Bell Canyon clients have been trusting us for over 20 years now. We're the licensed and expertly trained resource for window blinds, shades, and shutters, and we look forward to working with you.
Know Your Options for Window Blinds
Bell Canyon home and business owners can trust us for quality, and that also means good variety. To create a custom look for you, there must be options!
When it comes to window blinds, those choices include:
Traditional Blinds
Faux Wood Blinds
Aluminum Blinds
Mini Blinds
Each style comes with its own set of pros and cons. For example, wood blinds are one-of-a-kind and a classic beauty that can't be beat.
However, they're more expensive and aren't suitable for rooms with humidity. Never fear, that's where faux wood blinds come to save the day, with a lower price point and the ability to withstand heat and moisture.
Yet, their downfall is they don't carry the value that real wood does. As you can see, there's a lot to consider, and you need an industry expert.
We're available to offer guidance and feedback, so you'll make the appropriate decision for your situation. For many homeowners, window blinds are the perfect selection, and we're here to help you decide which type to choose.
Take Advantage of Beautiful Draperies
There's something about curtains and draperies that enhance the appearance of a room. It's luxurious even when nothing more than a simple sheer.
Draperies offer unique benefits that not all window treatments can:
Dramatic and elegant
Can be the focal point
Add to the energy-efficiency
Ability to layer treatments
Heavier materials offer better privacy
It's a different path to take than something boxy like shutters. Homeowners appreciate the flow and freeness of fabric draperies.
You can also use this on top of another style of window treatment and double up on your privacy, security, and insulation. Whatever you decide, now is the time to get started.
Contact us today and begin putting the final touches on your home. Reach out to our team and let us take care of your Bell Canyon window treatments as soon as possible.
If you are looking for a professional Bell Canyon shutter company then please call 805-201-8374 or complete our online request form.