Interior Solar Screens (Fixed)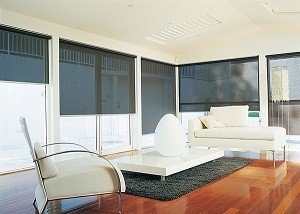 Want to cut down on the glare without sacrificing your unobstructed view? Then interior solar screens will probably be perfect for you. Even better, working with SeaBreeze Window Coverings is sure to get you the results that you want, need and deserve.
These are durable panels that are fixed to the interior of your windows. Aside from just cutting down on the glare, there are plenty of other reasons that this is a great option to consider. You get many of the same benefits of having a traditional window covering in place, without losing your view.
The important thing to keep in mind is that you need to work with an expert shutter company to get the job done. It all starts with a consultation and the opportunity to provide you with the information that you need, in order to make the right choice. It ends with you getting the final results that you should be able to expect from an industry expert.
Are Interior Solar Screens Right For You?
If you are still new to the concept of residential interior solar screens in Ventura, consider these important details:
Keeping your home protected against UV rays is more important than you probably realize. Harmful UV rays can fade and damage your flooring, furnishings and even your window treatments. Just you protect your skin from UV rays, you should safeguard the interior of your home.
Keeping the interior temperature of your home manageable is another perfect reason to add a fixed solar screen. In the summer, the sun can cause the temperature to drastically rise.
This makes it difficult for your cooling system to keep up and costs you higher energy bills than should be necessary.
If you love the look of natural sunlight in your home without the direct glare, this is made for you. Stop hiding from the glare and missing out on the natural light. Pair a solar screen up with a secondary window covering option, such as draperies, and you can have the privacy you desire, as well.
Only you can determine which window treatments you would prefer for your home. Our job is to help make you aware of the options and then expertly install them.
The Only Interior Solar Screens Company You Need to Know
SeaBreeze Window Coverings would be glad to meet with you and provide you with the information that you need to make the best choices. You should be able to live with, and love, the final results for your window coverings. Let us tell you all about the benefits of interior solar screens and help ensure that you make the best choice possible.
If you would like an estimate for interior solar screens in Ventura or the surrounding areas, please call 805-201-8374 or complete our online request form.
Latest Articles
Embrace Convenience and Control: The Advantages of Motorization for Window Blinds
Window blinds are an essential part of any home, offering privacy, light control, and aesthetic appeal. In recent years, motorization has revolutionized the way we interact with window blinds, providing homeowners with unprecedented convenience and control. In this article, we will explore […]
Read More
---
3 Reasons To Invest In Woven Wood Shades
When you're in the market for new shades for your home, it's pretty easy to feel a bit overwhelmed at the sheer amount of different options out there for you to choose from. While any and all of those options would likely be a wonderful addition to your home, there is one option out there […]
Read More
---