Honeycomb / Cellular Shades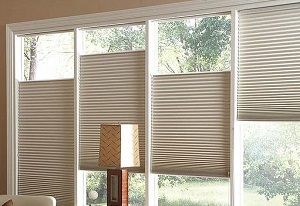 If you haven't had to decipher one type of window covering from another, it can feel confusing trying to make sense of terms like honeycomb or cellular shades in Ventura. This is especially true since even the term honeycomb is interchangeable with cellular shades. For the best in products, workmanship and step-by-step guidance through the process, the only name that you need to know is SeaBreeze Window Coverings.
The choices that you make for your window coverings should be ones that you can live with, and love, for years to come. We take great pride in the dedication that we have to the total satisfaction of our customers. This means ensuring that you are well aware of what each type of window treatment is, including the sub genres available.
There are not just countless window treatment options, there are choices within even the division of shades. Honeycomb or cellular shades offer a unique look as well as unique benefits. Get in touch with our skilled and seasoned window blinds experts in order to get the results you want, need and deserve.
Are Honeycomb / Cellular Shades Right For You?
Honeycomb shades are easily distinguishable by their trademark look, that explains the name. From the side, the formation creates a look that resembles a single line from a honeycomb. This creates a unique look but also the ability to offer better insulation.
Some other benefits of installing honeycomb/cellular shades in Ventura and the surrounding areas include:
Cellular shades offer both light filtering and blocking capabilities. This means that you get the ability to block out light while still allowing soft, filtered light through. The only drawback is that this may not work if you are looking for something that offers total privacy or darkness.
The added measure of insulation makes it possible to make your home more energy-efficient. This means lower energy bills and a dwelling that is more eco-friendy.
These shades come with options that remove the need for cords. This is a preferred approach for parents or pet owners who are concerned about the possible safety threat cords may pose.
In many cases, this quality window treatment offers just enough noise reduction capabilities, as well.
The Source for Honeycomb / Cellular Shades in Ventura
Still deciding if cellular or honeycomb shades would be right for you? Then you have come to the right place since SeaBreeze Window Coverings can provide you with the information that you need to make the best choice, for your individual situation. Don't delay, give us a call today, and let us help you make a long term choice you can feel good about.
Photos of Our Cellular Shades in Ventura & the Surrounding Areas
If you would like an estimate for honeycomb cellular shades in Ventura or the surrounding areas, please call 805-201-8374 or complete our online request form.
Latest Articles
Embrace Convenience and Control: The Advantages of Motorization for Window Blinds
Window blinds are an essential part of any home, offering privacy, light control, and aesthetic appeal. In recent years, motorization has revolutionized the way we interact with window blinds, providing homeowners with unprecedented convenience and control. In this article, we will explore […]
Read More
---
3 Reasons To Invest In Woven Wood Shades
When you're in the market for new shades for your home, it's pretty easy to feel a bit overwhelmed at the sheer amount of different options out there for you to choose from. While any and all of those options would likely be a wonderful addition to your home, there is one option out there […]
Read More
---