Looking for Shutters, Shades or Window Blinds? Call Our Thousand Oaks Shutter Company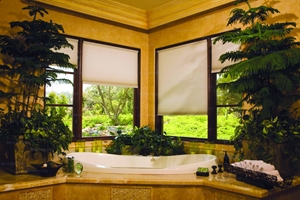 Making the wise decision to work with a professional for Thousand Oaks shutter company services is one of the smartest moves that you can make. For one thing, this is not the type of thing that you should attempt to turn into a DIY project. Without proper training and experience in the service and design industry, how can you possibly get the results that you want?
For the finest in quality workmanship, as well as customer care and superior results, the only name that you need to know is SeaBreeze Window Coverings. With over two decades worth of hands-on expertise in the field, we take this line of work seriously. Our main priority as a local shutter company is finding out more about what you hope to achieve and then bringing that vision to life.
Even if you have no vision yet of what you want to do, we can help inspire exciting ideas, and show you stunning options that you have. There is no reason to settle for less than the best for this, or any aspect of your home. Give us a call today to find out more about what we have to offer you.
Window Blind Company in Thousand Oaks
The most valuable thing you can acquire from a seasoned industry expert is the advice and feedback they offer. This is one thing you will notice is lacking from someone who is nothing more than a glorified window blind salesperson. They don't have the knowledge or hands-on expertise necessary to offer guidance, their only interest is selling window treatments.
We offer helpful tips like:
Try to make it a point to avoid fads. If you end up with window coverings that are the result of the latest fad, you are likely going to want to replace them within six months.
On the other hand, make sure the colors you choose are current or else your choice will look outdated in no time at all.
Look for the right balance of light and privacy. Except for putting blackout curtains in the bedroom, most people like to have natural sunlight spilling in. This not only looks great, it helps cut down on utility bills and makes your home more Eco-friendly. However, too much light can be overwhelming and also means you may not have the privacy you need.
Your Local Thousand Oaks Window Treatment Experts
The bottom line is that we want to be able to provide you with the window treatments in Thousand Oaks, CA that you have always wanted, even if you didn't realize that was missing from the look of your home. At SeaBreeze Window Coverings, we know how to mix the perfect blend of elements to come up with a creative concept that you will love. Give us a call today to find out more.
If you are looking for a professional Thousand Oaks shutter company then please call 805-201-8374 or complete our online request form.