Custom Curtains & Traditional Drapery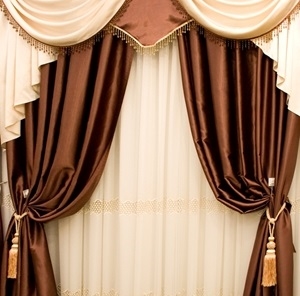 Opting for traditional drapery for your windows is an ideal way to create a simple yet stunning look, as well as enjoying numerous other benefits. When starting any type of window treatment project, the first thing that you have to deal with is finding the right professional to partner with that has experience in creating custom curtains in Ventura and nearby. Ask around and local home and business owners will tell you that SeaBreeze Window Coverings is the way to go.
We take this line of work seriously and that is evident in the results we deliver for each of our customers. With over 20 years of industry expertise, we have seen trends come and go. What we do know is that traditional drapes are never at risk of being a fad that quickly passes here in California.
When you are investing in window treatments, you want to feel confident that they will be a look and quality that will last for years to come. This is certainly the case with traditional draperies in Ventura and the surrounding areas. The best part is that you will even get the exceptional customer service that you deserve to make the process that much more enjoyable.
Are Traditional Draperies Right For You?
While there are quite a number of options that you have, for your window coverings, curtains can be the best one. Here are some of the reasons why:
If you are seeking additional insulating features, drapes certainly meet the mark. Obviously, the heavier the fabric used the better the insulating capabilities.
The heavier materials can also provide complete blackout, which many people prefer, at least in the bedroom. On the other hand, if you like soft light filtering through, sheer curtains can provide you with that.
If you desire privacy, thicker curtains can also help with that. Keep in mind sheer curtains offer little to no privacy. However, when paired with another type of window treatment, you can enhance the privacy capabilities.
Obviously, one major reason curtains are so popular is the ability to customize the look. You have a wide variety of materials, colors, patterns and other details to choose from for your curtains. Plus, you have other optional decisions like valances. When you work with our shutter company, you can rest assured our experts will help you find the perfect window dressings while helping you fully understand the many options you have.
The Only Traditional Draperies Company You Need to Know
The last thing that you want is to make a choice you don't love, because you didn't have the professional feedback you needed. The problem with too many other companies is that their main focus is on sales, not customer care.
SeaBreeze Window Coverings will help you comprehend your options for traditional draperies, as well as other window coverings. From there, you can select and receive curtains you will be proud to having gracing your windows, for years to come.
If you would like an estimate for custom curtains in Ventura or the surrounding areas, please call 805-201-8374 or complete our online request form.
Latest Articles
Embrace Convenience and Control: The Advantages of Motorization for Window Blinds
Window blinds are an essential part of any home, offering privacy, light control, and aesthetic appeal. In recent years, motorization has revolutionized the way we interact with window blinds, providing homeowners with unprecedented convenience and control. In this article, we will explore […]
Read More
---
3 Reasons To Invest In Woven Wood Shades
When you're in the market for new shades for your home, it's pretty easy to feel a bit overwhelmed at the sheer amount of different options out there for you to choose from. While any and all of those options would likely be a wonderful addition to your home, there is one option out there […]
Read More
---