Faux Wood Blinds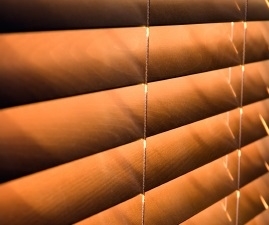 It really comes as no surprise why so many homeowners prefer faux wood blinds in Ventura and the surrounding areas. However, our team here at SeaBreeze Window Coverings still feels it is important for consumers to understand their options so that they can make the best choices possible. Before deciding that imitation wood is the way that you want to go for your window blinds, at least let our experts familiarize you with the alternative selections you have available.
Take a moment to schedule a consultation with us so we can educate you about your choices. Our top priority as a local window blinds company in Ventura is ensuring that our customers make decisions that they can feel good about, for years to come. Don't make the error of thinking that you have to choose between quality customer care, excellence in workmanship or reasonable pricing.
SeaBreeze Window Coverings can provide all of the above for you and make this a pleasant experience. You won't get pushy sales tactics, or a so-called industry pro who lacks the knowledge and credentials to work in this field. Above all else, we are experts in the world of window coverings with a dedication to customer satisfaction, not just salespeople. Give us a call today to learn more about why we're the preferred local choice for faux wood blinds in Ventura.
Are Faux Wood Blinds Right For You?
What makes faux wood blinds ideal for some consumers and not for others?
While faux wood is not real wood, it has a look that is almost identical. All you lose is the ability for each slat to be one of a kind since it is not all unique, authentic wood grain.
One of the reasons that this alternative to real wood is so popular is the lower price tag. The only trade off for that lower initial investment is that faux wood does not add as much to the value of your property as real wood does.
You will also be glad to know that faux wood window blinds require less care and maintenance for upkeep.
Faux wood blinds are ideal for any room in your home, including places real wood is not. Due to faux wood's resistance to moisture, you can even include them in rooms that tend to be damp and humid, like the bathroom.
While there are certainly other contributing factors in making this type of decision, these are some to consider.
The Only Window Treatment Company You Need to Know for Faux Wood Blinds in Ventura
If you are ready to move forward with your window treatment options, let SeaBreeze Window Coverings help you through the process. It can feel like a daunting task if you attempt to make sense of it, on your own. Whether you know you want faux or real wood blinds - or are still unsure - we will be there for the finest in feedback and final results.
If you would like an estimate for faux wood blinds in Ventura or the surrounding areas, please call 805-201-8374 or complete our online request form.
Latest Articles
Embrace Convenience and Control: The Advantages of Motorization for Window Blinds
Window blinds are an essential part of any home, offering privacy, light control, and aesthetic appeal. In recent years, motorization has revolutionized the way we interact with window blinds, providing homeowners with unprecedented convenience and control. In this article, we will explore […]
Read More
---
3 Reasons To Invest In Woven Wood Shades
When you're in the market for new shades for your home, it's pretty easy to feel a bit overwhelmed at the sheer amount of different options out there for you to choose from. While any and all of those options would likely be a wonderful addition to your home, there is one option out there […]
Read More
---