Call Your Agoura Hills Shutter Company Today For The Window Treatments You Want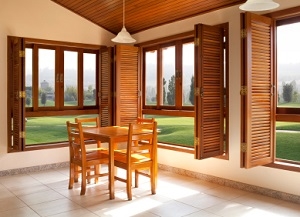 With over two decades of expertise in this business, SeaBreeze Window Coverings is worthy of being your Agoura Hills shutter company. We don't focus on just meeting your expectations, our goal is always to exceed them.
The custom window treatments you can expect from us will be exquisitely crafted from top to bottom. The installation work from our trained and certified team will be nothing less, either.
All around, you can expect guaranteed satisfaction from our company for your Agoura Hills home or commercial property. We have a wide variety of options for you to choose from, so call now to schedule your convenient consultation.
What Makes Shutters So Popular?
There's no denying that shutters remain a staple among window treatment options; their popularity never seems to decline. If you're wondering how your Agoura Hills home would benefit from having standard or plantation shutters in place, consider this:
Shutters offer the maximum amount of privacy and light control. The unique louver and slat system enables you to make adjustments that allow as much or as little exposure and light as you'd like.
Shutters are ideal for protecting your glass. When closed, they act as a barrier against anything that may strike the glass. This helps lessen instances of broken glass and reduces the potential for injuries.
Shutters act as an additional layer of insulation. Homeowners seeking ways to make their homes more energy-efficient will appreciate this. It can cut utility costs and improve your level of Eco-friendliness.
Shutters are attractive. Their visual aesthetic makes them appropriate for any interior design plan. They look good from inside and outside of the house.
Schedule your consultation and decide if customer shutters are the right fit for your home.
Using Motorized Blinds to Your Advantage
Move your home into the 21st century with motorized blinds. What could be better than controlling your blinds from an app on your SmartPhone?
As technology advances for SmartHomes, consumers love the capability they have to use their window blinds like never before.
Safer
Energy-efficient
Convenient
Frequent Use
Increased Value
The biggest benefit is the ability to do away with exposed cords or strings that pose a safety threat to children and pets. Homeowners also now actually make more adjustments since it's so convenient, and this lowers energy consumption and waste.
Plus, your home's property value will go up even more once you install motorized blinds. Stop putting off until tomorrow what SeaBreeze Window Coverings could be taking care of for you today.
Call us now for optimal service surrounding your Agoura Hills Window treatments.
If you are looking for a professional Agoura Hills shutter company then please call 805-201-8374 or complete our online request form.