Stunningly Beautiful Real Wood Blinds at Prices You'll Love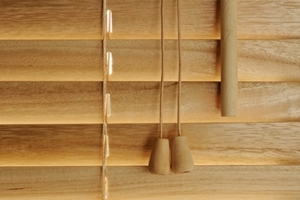 For some California homeowners, nothing beats the classic look of wood blinds for their window treatment choice. Wood implemented for any aspect of the interior of your home is considered a classic. Plus, it certainly doesn't hurt that, if well-maintained over the years, this wood feature will add to the property value of your home. So it's not wonder one of our most popular window coverings is wood blinds in Ventura and the surrounding areas.
Our experts here at SeaBreeze Window Coverings know about all of the facets of the industry, especially the wide array of choices of window blinds available to our clients. When you schedule a consultation with us, you can expect to get a vital lesson in the world of window treatments. This is the only possible way for you to make a good choice, as a wise consumer and informed homeowner.
For instance, one of the most common queries we get is about whether faux wood blinds will suffice in place of real wood. While your decision is, ultimately, your personal choice, it should be influenced by the information that you gather from meeting with an industry professional. Don't settle for less than the best when it comes to products, workmanship and personalized customer care.
Are Wood Blinds Right For You?
So do you want wood blinds? Before making this crucial decision, some things to consider include:
The upfront cost for wood blinds in Ventura is more than other window covering options. However, they are a wise investment because they increase the value of your home more than other choices
Wood blinds may also require slightly more care, when it comes to cleaning. However, the final outcome is worth it and helps retain the value.
Many people prefer wood blinds because of the heightened level of privacy. While other material choices for blinds may still allow some level of being able to see figures and shadows, wood eliminates that.
The bottom line is that they simply look classy. While they may not steal the show, in terms of becoming the focal point of the room, they certainly maximize the allure. Wood blinds cannot look drab, cheap or lackluster.
Don't end up making a choice that you regret. Make the wise decision to team up with our experts in order to get the advice and feedback that you need.
The Only Window Treatment Company You Need to Know for Wood Blinds in Ventura
At SeaBreeze Window Coverings, we tend to take the window treatment business seriously. We have invested over 20 years of hard work into this field and into making sure that each of our clients is 100% satisfied. If you are trying to discern if wood blinds are the right choice for your residential or commercial space, give us a call.
If you would like an estimate for real wood blinds in Ventura or the surrounding areas, please call 805-201-8374 or complete our online request form.
Latest Articles
Embrace Convenience and Control: The Advantages of Motorization for Window Blinds
Window blinds are an essential part of any home, offering privacy, light control, and aesthetic appeal. In recent years, motorization has revolutionized the way we interact with window blinds, providing homeowners with unprecedented convenience and control. In this article, we will explore […]
Read More
---
3 Reasons To Invest In Woven Wood Shades
When you're in the market for new shades for your home, it's pretty easy to feel a bit overwhelmed at the sheer amount of different options out there for you to choose from. While any and all of those options would likely be a wonderful addition to your home, there is one option out there […]
Read More
---