Draperies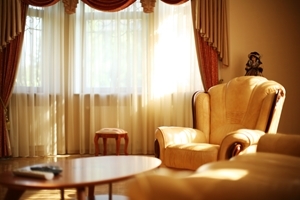 A classic window covering that has always retained its level of popularity is draperies in Ventura and the surrounding areas of California. These are commonly used for a number of reasons, including the ability to become works of art decorating the windows not the walls. For the best in advice, information and final results, the name to entrust is SeaBreeze Window Coverings.
With over two decades of industry related experience, we take great pride in results that we are able to deliver for each of our clients. There is no reason to feel you have to make a choice between quality materials, skilled workmanship, excellence in customer care or affordable pricing. By partnering with our shutter company, you can rest assured that you are getting all of the above.
Keep in mind, the window treatments that you select will be visible from both inside and outside your home or business. Since that means they will impact both the interior visual aesthetics and the exterior curb appeal, make your selection carefully. Give us a call today to set up a time for your consultation.
If you would like an estimate for custom draperies in Ventura or the surrounding areas, please call 805-201-8374 or complete our online request form.
Latest Articles