Your Local Window Blind & Shutter Company in Ventura, CA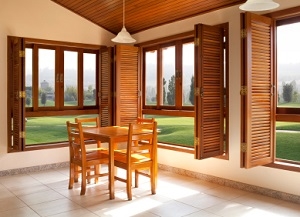 When you are searching for just the right Ventura shutter company to work with you want to feel confident about their skill level. The thing to keep in mind is that there is a big difference between a professional window treatment expert and a window covering salesperson. At SeaBreeze Window Coverings, we take great pride in the name we have earned for ourselves as the top service provider in the area.
Choosing the right window treatments - whether you want to go with shutters, shades, draperies or window blinds in Ventura - doesn't have to be a confusing task. In fact, when you make it a point to partner with reputable industry experts who care about helping their clients, the project can be rather satisfying. With over two decades of field-related expertise, we know what it takes to get the job done and make the most of the results.
Don't take chances when it comes to the level of quality service you receive. Too many homeowners think they have to choose between workmanship, customer care or affordable pricing. The good news is that by teaming up with us, you get all of the above.
Window Blind Company in Ventura
As popular as window blinds are in the Ventura area, it is important to remember you have a wide variety of options to choose from. Don't limit yourself or make a selection that you don't feel confident about. No matter what type you opt for, some things to keep in mind are:
Think about privacy, as well as light control. Don't make the mistake of selecting sheer curtains only to find out you feel completely exposed, once night rolls around.
However, there is a lot to be said for having access to natural light. This helps save on utility bills but also creates a warm and welcoming interior space.
If you want to keep the colors simple or neutral, consider adding texture. Woven wood shades are a great way to use texture to add depth without opting for bold colors that will steal the spotlight.
Another great choice that you have is layering your window coverings. Blinds or shades with curtains on top are popular ways to do this.
By working with reliable industry experts like the ones you'll find at our Ventura shutter company, you can get the advice you need to make the right choice for your individual situation.
Your Local Ventura Window Treatment Experts
SeaBreeze Window Coverings is the only name that you need to know in order to get the expert quality results that you want for your window coverings. We offer the finest products and services for both residential and commercial environments. Call today and let us put our skills and experience to work for you.
If you are looking for a professional Ventura shutter company then please call 805-201-8374 or complete our online request form.