Pleated Shades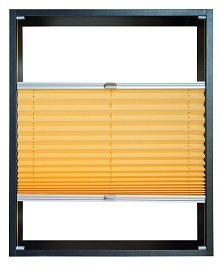 Why does it seem that so many homeowners are making the wise choice to opt for pleated shades in Ventura, when it comes to getting window coverings? For anyone who has ever seen this type of window treatment, it is obvious that this is the best decision to make. It is a stylish look that enhances the appeal of any room and provides just the right amount of light control.
What people tend to overlook is that window coverings are something that impact both the interior design aesthetics and the exterior curb appeal. It is important to choose wisely. Working with industry experts like SeaBreeze Window Coverings is the best way to get the final look that you desire and had hoped for.
We take great pride in the work that we do and that shows in the results that we are able to deliver, for every job, every time. The last thing that you need is to end up paying for window coverings that you don't even like. The window treatment experts at our window blinds company in Ventura will educate you on each of your alternate possibilities and make sure that you make the right one for your home or business.
Are Pleated Shades Right For You?
For anyone still on the fence about whether or not this type of window shade would be the right choice, here are some details to keep in mind:
Aside from fitting a variety of different looks, pleated shades are ideal for a variety of different window sizes and styles too.
They can be drawn completely which means you get a completely unobstructed view, when so desired.
This is also the perfect choice for cramped quarters since you don't need any additional space, like you would need for opening shutters.
You get light control and privacy while still allowing some light to pass through.
The option that you choose is as unique as you are, especially when you choose from our selection of pleated shades in Ventura, CA. Ultimately, you have to decide on something that you can live with, and love, for years to come. Our job is just to make sure that you understand your choices and that you pick what is best suited for you and your needs.
Your Local Source for Pleated Shades in Ventura
Choosing just the right window coverings doesn't have to be a big chore. All it takes is knowing that you have a professional to work with in order to get the professional results you want, need and deserve.
SeaBreeze Window Coverings is proud to be the local leading service provider. Now, we look forward to helping you choose pleated shades, or some other style of window covering, to complete the look of your home.
If you would like an estimate for custom pleated shades in Ventura or the surrounding areas, please call 805-201-8374 or complete our online request form.
Latest Articles
Embrace Convenience and Control: The Advantages of Motorization for Window Blinds
Window blinds are an essential part of any home, offering privacy, light control, and aesthetic appeal. In recent years, motorization has revolutionized the way we interact with window blinds, providing homeowners with unprecedented convenience and control. In this article, we will explore […]
Read More
---
3 Reasons To Invest In Woven Wood Shades
When you're in the market for new shades for your home, it's pretty easy to feel a bit overwhelmed at the sheer amount of different options out there for you to choose from. While any and all of those options would likely be a wonderful addition to your home, there is one option out there […]
Read More
---