Roman Shades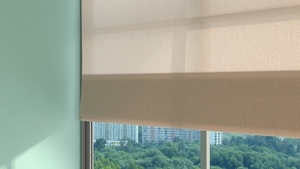 What tends to confuse homeowners about their options for window treatments is that there is such a wide variety available. For instance, aside from just shades there are choices like Roman shades in Ventura. Aside from just Roman shades, there are different types of roman shades. All of this is why it makes it so important to team up with a reputable industry professional to get the information that you need.
SeaBreeze Window Coverings is committed to providing each client with the data they would need to make the best choice possible. The treatments that you select should be something that you can live with, and love, for years to come. Now, we look forward to working with you and providing you with the info that you require to understand Roman shades.
Our window blinds company takes great pride in being able to do more than just provide our customers with the workmanship required to get quality installation work done. We offer information, guidance, knowledge and feedback. This is one of the main differences between being just a salesperson and being an industry expert.
Are Roman Shades Right For You?
How will you decide if Roman shades are the right option for your home? Some of the reasons people prefer this type of window treatment include, but are not limited to:
Simply put, there is no other style of window covering that has as stunning and dramatic a look. The use of fabrics in a variety of styles makes all the difference. From simple and subtle hues to bold and vibrant prints, the possibilities are practically endless.
The majority of options that you have with Roman shades still allow for subtle and diffused light to come through. While that may not make it ideal for total privacy, many homeowners appreciate the visual allure it adds to the aesthetics.
As with any of the options that you have for your window coverings, keep in mind that they are visible from both inside and outside your building. That means the choices that you make will impact both the interior design aesthetics and the exterior curb appeal.
Don't make the mistake of thinking that you have to choose between quality products, excellence in customer care, superior craftsmanship or affordable pricing. With SeaBreeze you get them all. Come check out our selection of roman shades in Ventura, CA today, or give us a call to set up a free in-home consultation to see our products in your space.
The Only Company You Need to Know for Quality Roman Shades in Ventura
At SeaBreeze Window Coverings we look forward to having the opportunity to provide you with the information that you need to make decisions that will enhance your home, inside and out. More importantly, we want to help you assess if Roman blinds will be the ideal choice for the look you want to create. Call today to get started.
Photos of Our Roman Shades in Ventura & the Surrounding Areas
If you would like an estimate for roman shades in Ventura or the surrounding areas, please call 805-201-8374 or complete our online request form.
Latest Articles
Embrace Convenience and Control: The Advantages of Motorization for Window Blinds
Window blinds are an essential part of any home, offering privacy, light control, and aesthetic appeal. In recent years, motorization has revolutionized the way we interact with window blinds, providing homeowners with unprecedented convenience and control. In this article, we will explore […]
Read More
---
3 Reasons To Invest In Woven Wood Shades
When you're in the market for new shades for your home, it's pretty easy to feel a bit overwhelmed at the sheer amount of different options out there for you to choose from. While any and all of those options would likely be a wonderful addition to your home, there is one option out there […]
Read More
---