The Classic Style of Woven Shades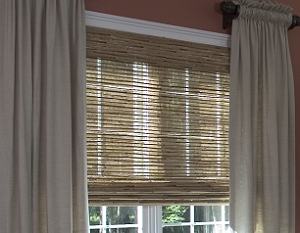 There are plenty of reasons that woven shades have gained such popularity in recent years in California, all reasons that can benefit you. As a wise home or business owner and a savvy consumer, you want to be certain that you are making the best possible choice, for your window coverings. Follow the example of so many other satisfied customers before you, and make the smart decision to work with SeaBreeze Window Coverings for woven shades in Ventura, CA.
We have been providing exceptional customer experiences for over two decades now as a local shutter and window blinds company, because we know what goes into providing excellence. Too many customers think that they have to make a choice between quality products, exceptional customer care or affordable pricing. By making the wise decision to partner with our team of window treatment experts, you always get all of the above.
We take great pride in the work that we do and that shows in the results that we are able to get for every one of our clients. It's not about being in the window treatment sales business, it is about being part of the customer service industry. And it starts with making sure that you have a better understanding of your options, such as woven shades in Ventura, CA.
Are Woven Shades Right For You?
If woven shades are something that you are currently considering, here are some things that you should know about this option:
They are available in a wide assortment of colors, styles and overall looks. Contrary to popular belief, you are not limited to just neutral hues or earth tones.
Generally, the most popular kind is woven wood. These are made from a variety of options, including jute or bamboo. That means that they are made from a renewable resource and are usually recyclable.
This is also the ideal option for anyone who would like to keep a certain level of light filtering through. However, if you prefer darker and more privacy, woven shades also work perfectly layered with another type of window covering.
The bottom line is that you have so many great options available to you. Working with our experts will enable you to understand your options and make the best choices possible.
The Source for Woven Shades in Ventura, CA
If you are ready to get started, all you have to do is call on us to arrange your consultation. At SeaBreeze Window Coverings our number one priority is to provide you with the information that you need so you can make the best choices possible. From there, we will provide you with expert level installation so you have professional window treatments that you can love, for years to come.
If you would like an estimate for woven shades in Ventura or the surrounding areas, please call 805-201-8374 or complete our online request form.
Latest Articles
Embrace Convenience and Control: The Advantages of Motorization for Window Blinds
Window blinds are an essential part of any home, offering privacy, light control, and aesthetic appeal. In recent years, motorization has revolutionized the way we interact with window blinds, providing homeowners with unprecedented convenience and control. In this article, we will explore […]
Read More
---
3 Reasons To Invest In Woven Wood Shades
When you're in the market for new shades for your home, it's pretty easy to feel a bit overwhelmed at the sheer amount of different options out there for you to choose from. While any and all of those options would likely be a wonderful addition to your home, there is one option out there […]
Read More
---