The Preferred Oxnard Shutter Company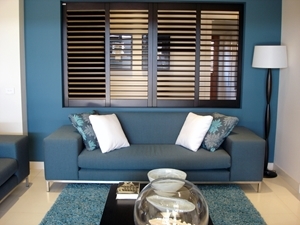 One of the responsibilities that comes with being a homeowner is finding the ideal Oxnard shutter company to work with. Ask around and the general consensus is SeaBreeze Window Coverings. Our name has become synonymous with excellence in products, workmanship, customer service and even pricing.
With over two plus decades of experience in this trade, our shutter company knows a lot about what goes into providing our clients with the results that they want. Our approach is unique – we treat you the way that we would want to be treated. That means you will be working with pros who know the business of window covering design and that we are not just focused on being in the window treatment sales business.
We look forward to having the opportunity to work with you and show you the wide variety of options that you have available to you. Don't stress over this project, let us show you just how enjoyable and rewarding it can be. Whether you want subtle and uniform or bold and showstoppers, we can put it together for you.
Window Blind Company in Oxnard
Think window blinds are the right choice for your home or business? While they are an excellent choice, and come available in a wide variety of colors and materials now, make sure that you weigh all of your options. Some details that can help you make the right choice:
Make a selection partially based on the amount of unobstructed view you would like to have. Options like shutters allow you to completely open them and have a full panoramic view.
Think about privacy and security. If you opt for something like sheer curtains, plan for layering. By having blinds, shades or even a heavier curtain on top, you can still retain your privacy, once the night sets in.
Keep in mind that you do not have to rely on bold prints or vibrant colors to enhance the look and add visual interest. Textures can have this same effect but with more refined subtlety. Choose bamboo shades or some type of woven wood shade and you can keep neutral colors but still add depth.
Choosing the experts you want to work with is the first step towards success with your window coverings project.
Your Local Oxnard Window Treatment Experts
Getting the very best window treatments in Oxnard, CA doesn't mean you have to pay the most. It is about getting good value – top quality work from industry experts for a reasonable price. This is why so many local home and business owners make it a point to call on SeaBreeze Window Coverings to complete the task at hand.
If you are looking for a professional Oxnard shutter company then please call 805-201-8374 or complete our online request form.