Mini Blinds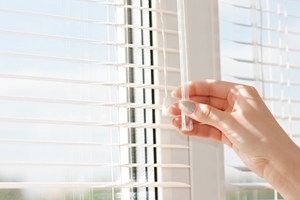 When you start delving into the world of window treatments, you begin to realize just how many options are out there. One commonly used selection is mini blinds in Ventura and the surrounding areas. However, before you get started making your final decisions about which window covering would be right for you, it is important to get familiar with the company you should entrust to take care of the job for you.
SeaBreeze Window Coverings is the name that local residential and commercial clients turn to for the best in craftsmanship, products, customer care and even affordable pricing. We strive to provide our customers with exceptional service, all around. From the moment you set up the consultation to the moment the window blind installation job is complete, you should be able to feel 100% satisfaction.
As a local window blinds company in Ventura, CA we take great pride in the work we do and take this field of work seriously. The coverings that you end up with should be something that you can live with, and love, for years to come. Let us provide you with the final results that you want, need and deserve.
Are Mini Blinds Right For You?
Familiarizing yourself with the options that you have for window treatments is a smart way to make the right decision for your home or business. If mini blinds are something that you are considering, here are some of the advantages that you should know about:
The price is one of the most appealing trait, for some consumers. While there may be some options that are slightly less expensive, this is about value. You get good quality for a reasonable cost.
This is also a good choice if one of your main concerns is privacy and light control. You can make adjustments to these blinds so that you have total privacy or have a completely unobstructed view. It all comes down to personal preference and individual needs.
Mini blinds are also known for their ability to be durable. While there are certainly other alternatives that are even stronger, such as shutters, this is a good choice too.
Give us a call today and let us provide you with the information that you need to make the right choice for you. Our company has a large selection of mini blinds in Ventura, and we'll help you through the entire process from selection to installation.
Your Local Source for Mini Blinds in Ventura
When it comes to knowing the industry inside and out, SeaBreeze Window Coverings knows mini blinds, as well as other options for window treatments. We take this line of work seriously and that is evident from the high rate of repeat and referral business we get. It is as important to us as it is to you that you love the final results that you get.
If you would like an estimate for custom mini blinds in Ventura or the surrounding areas, please call 805-201-8374 or complete our online request form.
Latest Articles
Embrace Convenience and Control: The Advantages of Motorization for Window Blinds
Window blinds are an essential part of any home, offering privacy, light control, and aesthetic appeal. In recent years, motorization has revolutionized the way we interact with window blinds, providing homeowners with unprecedented convenience and control. In this article, we will explore […]
Read More
---
3 Reasons To Invest In Woven Wood Shades
When you're in the market for new shades for your home, it's pretty easy to feel a bit overwhelmed at the sheer amount of different options out there for you to choose from. While any and all of those options would likely be a wonderful addition to your home, there is one option out there […]
Read More
---