Professional Goleta Shutter Company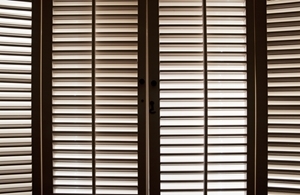 When you are considering updating the shutters or blinds on your Goleta home, you want to be sure you have the name of a professional to work with that you can trust. If you ask around, you will find that the professionals at SeaBreeze Window Coverings are some of the premier shutter company specialists in the area. We have become the Goleta shutter company of choice for many home and business owners in the area, and our name has become synonymous with excellent products, quality workmanship, exceptional customer service, and fair pricing.
With over twenty years of experience in the field, our team of shutter experts know well what all goes into providing each and every one of our clients with the service they need to get the results they want. We approach every job just like we would perform it on our own homes, meaning you can always count on us to deliver quality results that we would be proud to display in our own homes. With SeaBreeze Window Coverings, you will always be working with a team of professionals who know the business of window covering design, and aren't just focused on the window treatment aspect of the job alone.
If you have any questions about our full line of window treatment design and installation services, or you would like to call and schedule your appointment for consultation, give us a call today. Our team of professionals are always standing by and willing to help in whatever way they can. We look forward to hearing from you and working with you.
Window Blind Services In Goleta
If you think window blinds might be the better choice for your home or business, our team of professional blind experts can get you started. Window blinds are an excellent choice for many homes and businesses, and are available in a wide variety of different colors and materials, so it pays to make sure you weigh all of your different options. Helpful tips include:
Make your selection based partly off of how much unobstructed view you would like to have. Shutters will allow you to completely open them for a full panoramic view. Keep privacy and security in mind. If you go with something like sheer curtains, plan on layering. By putting blinds, shades, or heavier curtains on top, you can still get privacy at night. Don't think you have to rely on bold prints or vibrant colors to enhance the look or add visual interest to your home. Textures can give you a similar effect, but with more subtlety. Bamboo shades or other woven wood can give you neutral colors but still add depth.
Goleta Window Treatment Experts
When you are looking for the best window treatments available for your Goleta home, they don't always have to be the most expensive ones available as well. You want to make sure that no matter what company you go with, you are getting good value, and work done by industry experts. When you are looking for both, you will find them at SeaBreeze Window Coverings.
If you are looking for a professional Goleta shutter company, give us a call today at 805-201-8374 or fill out our online request form.