What's So Great About Cellular Shades?
---
---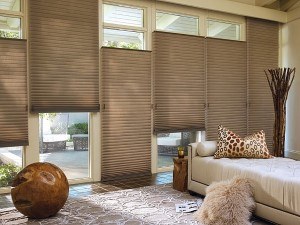 Your Santa Barbara shutter company can attest to the unique benefits of cellular, or honeycomb, shades. Cellular shades are window coverings comprised of numerous layers of pleated fabrics, forming internal compartments between the layers that appear like honeycombs. This honeycomb pattern gives cellular shades their impressive insulating properties.
The energy efficiency of cellular shades is measured by their R-value, or thermal resistance. The long, open slots trap air at the window, a process which insulates the room from solar heat and cold wind. The higher the R-value, the better the resistance to heat. The R-value of your shades depends on their material composition, and shades can have an R-value up to 7.0 when installed properly by a trusted shutter company.
Benefits of Cellular Shades
Light-Blocking Capabilities – Cellular shades filter light so that only soft light permeates them.
Increased Energy Efficiency – The high R-value of cellular shades contributes to significant energy savings, so they are the perfect choice for energy-conscious consumers.
Cordless Options – Cordless cellular shades are often chosen by parents and pet owners because of their concern for safety.
Noise Reduction – The composition of cellular shades allows them to decrease noise.
Varying Pleat Sizes and Colors – Cellular shades are customizable in color and size.
Reasonable Price – Simple cellular shade models can be bought for reasonable prices.
Increased Privacy – Top Down Bottom Up cellular shades allow you to raise the bottom or lower the top of the shades to customize your level of privacy.
Easy Installation – Cellular shades are mounted like standard shades.
Considering the fabrics and cell shapes of shades is important during your search for ideal window coverings from your Santa Barbara shutter company. Honeycomb shades made of point bond fabric are less effective at insulating heat and cold than those made of spun lace. D-shaped cells are constructed to maintain the accordion shape better than other types of cell shapes, and double cell shades offer better insulation than single cell shades.
If you decide to add cellular shades to your windows, schedule a consultation with SeaBreeze Window Coverings, your Santa Barbara shutter company, to experience the advantages of cellular shades in your home.
If you need a professional Ventura shutter company for your project, please call 805-201-8374 or complete our online request form.