What Type of Blinds Are Best for Your Ventura Home?
---
---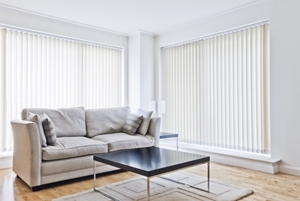 Thinking about updating your Ventura home's window coverings? Not sure what kinds of coverings you should get? If so, then may we suggest window blinds? You may be asking yourself, "Blinds? Why? What's so special about THOSE?"
The answer is simple: Blinds come in a variety of different materials, and this variety means you'll have a wide assortment of options to choose from. So, with blinds, you can be sure to find the window covering that best suits your home's look and your budget.
Not sure what the different options you have when it comes to blinds? Not sure what makes one option stand out from the others? Then keep on reading! Our quick list will detail three of the major blind options you have, and with this information, you'll be able to get the best window coverings for your home.
Wood Blinds
If you're looking for a truly beautiful and classically elegant look for your Ventura home, you can't go wrong with wood blinds. Wood offers a warm look that will add a cozy touch to any room of your home and coming in a wide variety of stunning natural colors and patterns, wood blinds will help you find the perfect look for your home.
In addition to this aesthetic benefit, wood blinds also offer some of the longest lifespans you can expect from any window covering. Their durable design and materials will help you to enjoy your new wood blinds for many years to come. So, if you're looking for a "set it and forget it" window covering option, wood blinds just might be the choice for you.
Faux Wood Blinds
Of course, as we talk about wood blinds, we can't overlook their one major drawback: the price. Because of the quality of their material and design, wood blinds tend to run on the higher side, price-wise. This price tag might deter you as you consider wood blinds as your window covering. Unfortunately, that means you'll miss out on the beauty this option can offer, right?
Wrong. After all, you can always opt for the far more economical option, faux wood blinds. Faux wood offers the same great look and variety that real wood blinds can, but coming in at a fraction of the cost, this option will prove to be more accessible to the budget-conscious among you. For the best in beauty and economy, you can't go wrong with faux wood blinds.
Aluminum Blinds
You shouldn't shop for your new window coverings with only appearances in mind. After all, your blinds can provide more than just aesthetic benefits. For instance, they can also provide additional insulation and energy efficiency for your Ventura home. This energy efficiency can translate into lower heating and cooling costs all year long.
For one of the most energy-efficient window covering options out there, consider getting aluminum blinds. Aluminum blinds provide this quality of energy efficiency, making them one of the most practical window covering options out there. What's more, aluminum blinds look great and come in a variety of designs and colors, making them beautiful as well as functional.
If you are interested in more window treatment tips from our Ventura shutter company, please call Seabreeze Window Coverings at 805-201-8374 or complete our online request form.