Learning a Little Drapery Lingo Before Adding Draperies to Your Home
---
---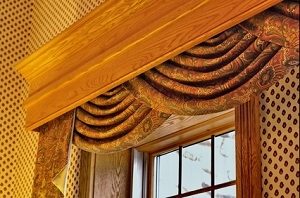 Savvy consumers and wise homeowners know that the best way to make a decision about something is to make sure that it is an informed one. Even when the decision that you are trying to make is about the window treatments for your Ventura home, it is just as vital to be informed. When you start talking to your local drapery expert, you want to already be aware of some of the lingo so that you don't get left behind. Shopping for draperies in Ventura, CA can be more complicated than you think.
Drapery Lingo & Drapery Hardware Basics 101
Here are some of the terms that you may hear and that you should understand before you start working with a professional on your draperies in Ventura:
Curtain – The words curtain and draperies are used interchangeably but are technically two different things. Generally, a curtain can vary in length while true draperies fall all the way to the floor.
Puddling – Since drapes are long, they create a dramatic puddle of fabric on the floor at the base of the drape.
Inside Mount – This is when the window covering is mounted inside the moldings. Then, for example, when the shades are lowered, they should lie flush with the casing.
Outside Mount – Hardware is mounted on top of the moldings so the window treatments are above the casing when closed.
Tieback – This is what holds the drape away from the center of the window so that the draperies are open. Without them, or if untied, the fabric would cover the entire window without an opening which would completely obstruct any view.
Hem – Just like a hem for clothing, this is a fabric that is measured, folded, and properly sewn in the back of the drape.
Center Support – For extra long curtain rods, or if the fabric of your drapes has any weight to it, you may need center support. This is what prevents the rod from bowing.
Track – If a room has floor-to-ceiling windows, there is little opportunity to mount the hardware required to install drapes. In that case, it is necessary to use a ceiling-mounted track for opening and closing your curtains.
While there are plenty of other terms that you should familiarize yourself with, these should help with some of the basics. Make it a point to choose a true industry professional to work with and you will never feel confused by the lingo. Your local window blinds and shutter company is a great place to start.
The Ventura Draperies Team You Can Trust
Here at SeaBreeze Window Coverings we use open communication skills to ensure that each of our customers is educated about the terms and process. Get in touch with us right now to get started on your project.
If you are looking for draperies in Ventura, CA then please call 805-201-8374 or complete our online request form.